Our Suppliers
Oliver Irrigation has chosen the suppliers of the product we use with great care.

Our suppliers include:

Wireless RainSensor™ SERIES
Oliver Irrigation Ltd. made 384 unnecessary service calls in 2004 because of irrigation systems coming on even when it was raining. These calls could have been avoided if the homeowner had a rain sensor.

This is why we feel the need to create a special offer for our clients.

We have purchased 500 Irritrol Wireless RainSensors at a bulk rate so that we can pass the savings on to you! These wireless rain sensors usually cost $271.78 installed. Your cost, including installation, only $156.76 including gst. A savings for you of $115.02!



Taking water conservation to the next level, Irritrol Systems' proven RainSensor™ Series makes watering in the rain a mistake of the past. Our reliable new wireless RainSensor Series conserves water by preventing irrigation during or after sufficient rainfall, while the freeze sensor helps reduce vegetation damage and icing conditions.

The new RainSensor Series rain and rain/freeze sensors are designed to suspend irrigation during rainfall or when the temperature drops below a predetermined set point (rain/freeze sensor only). All sensors are easy to install and work with virtually all AC-powered automatic irrigation systems.

This popular new accessory has adjustable shut-off points from 1/8" to 1" of accumulated rainfall and offers a transmission range of over 300 feet (wireless model) providing a variety of installation options.

RainSensor Series — water conservation made simple.
CR500 Series™ Rotors
Gear Driven - Commercial, Light Commercial, Residential

Application
Convenience-enhancing features include an easy-to-see arc indicator for simple adjustment from 40° to 360°, a 5-inch pop-up height, automatic arc return if nozzle turret is tampered with, and a riser pull-up slot for easy nozzle exchange. The CR500 rotor was designed with durability in mind. A heavy-duty retract spring, pressure-activated seal and sturdy trip mechanism all ensure long-term, reliable operation.
The CR500 rotor designed to meet the specific needs of the contractor.
205 Series Valves
1" plastic models
Electric Globe - Light Commercial, Residential
"Time Tested, Proven Performance"

Application
Irritrol® Systems' popular 205 Series electric globe valves offer debris-tolerant operation and a high-flow, low-friction-loss design for optimum performance in potable and dirty water applications.
HS Series Sprayheads
POP-UP -- Commercial, Light Commercial, Residential


Application
HS Series sprayheads offer a variety of important features that ensure quality performance and reliability in commercial, light commercial and residential applications. Featuring state-of-the-art design and convenient pop-up heights, these sprayheads deliver optimum water-efficient coverage.

The availability of variable arc nozzles to complement the full selection of Canopy™ MPR fixed arc models significantly increases the flexibility of the HS Series.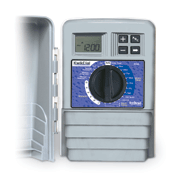 KD 6
KwikDial™ Series
4, 6, 9 and 12 stations (outdoor/indoor)

Application
The battery-operated IBOC® Designed specifically to meet the needs of residential landscapes, the full-featured KwikDial™ Series provides three fully independent programs with three start times per program. It offers automatic, semiautomatic and manual operation, a wide range of watering intervals, and the ability to make percentage changes to watering duration for seasonal adjustments. Operation is both simple and highly flexible, and convenience is enhanced by an optional remote system for station "start/pause/resume/off" capability.

Features
Three independent programs allow differing water days, start times, station running times and station assignments
Automatic, semiautomatic (manual program) and manual station(s) operation
Flexible watering day schedules:


| | |
| --- | --- |
| — | Days-of-the-week watering |
| — | Repeating-day-interval watering (every day, every 2nd day, every 3rd day etc., up to once every 31 days) |
| — | Excluded-day option, when used with the odd/even day or day-interval option, allows selection of specific day(s) not to water |
| — | Automatic leap year and 31st day skip with odd/even programming |

"Program stacking" feature stores programs for sequential operation (prevents program overlap)
Programmable "Rain Off" up to seven days
Dial and four push buttons for ease of programming
Large LCD displays status of programs scheduled to run each day
Sensor hookup with sensor by-pass switch
Multiple language capabilities (English, French, German, Italian and Spanish)
Built-in memory maintains real time and programming information for a minimum of 24 hours in the absence of AC power.
Self-diagnostic, electronic circuit breaker identifies and overrides an electrical "short" in a valve or in valve wiring and continues to water operable stations
"All-stations" test program
Electrical surge protection (on both input and output lines) resists damage from lightning storms and power surges
Water budgeting feature for each program (0-200% in 10% increments)
Weather-resistant plastic case with internal transformer (outdoor model) and provision on door for a padlock
Durable plastic case with plug-in transformer (indoor model)
UL and CUL listed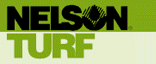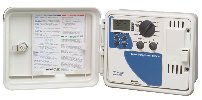 EZ Pro Jr. Series Controllers
Nelson introduces the EZ Pro Jr. Series of irrigation controllers. Enclosed in a weather-resistant case, the 8300 Series is ideal for residential and light commercial applications.
Applying the reliable characteristics and powerful technology of the EZ Pro 8600 Series, the 8300 series has been designed with an emphasis on easy and flexible programming as demanded by landscape contractors worldwide.
Additional features like "Event Days" per program or "Percent Water Budget" per month gives the installer the capability to improve watering efficiency while promoting water conservation.

MP Rotator Sprinklers
Compared to fixed-arc sprays, single-stream rotors or a system comprised of both, MP Rotators deliver significant performance advantages, great design flexibility and for those applications requiring 6" or 12" high-pop rotors — impressive cost savings.
The MP1000 (8-15'), the MP2000 (13-21') and the MP3000 (22-30') can be combined on the same zone, maintain a matched precipitation rate — even after arc and radius adjustment. MP Rotators perform better in the wind and virtually eliminate runoff due to their low precipitation rate. Save water, solve problems.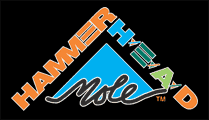 HammerHead Mole Piercing Tools
Oliver Irrigation uses these tools to help us to deliver the best solution for your sprinkler and irrigation needs.
When it comes to productivity, HammerHead Mole pneumatic piercing tools deliver the productivity and reliability needed to help us to complete your job. Whether we're boring a hole under a path or under a lawn, HammerHead Mole tools provide us with a complete solution.